This past weekend we had the auctions for my two long-time leagues, the Park Slope Rotisserie League, a traditional 4×4 AL-only league, and the Ezra Stiles Rotisserie Association, a 4×4 NL league. This is the 25th season of the ESRA NL, of which I was a founding member, and the 26th year of the Park Slope league, which I joined in 1999.
Using projections, I can take drafted rosters and predict how the leagues will finish.
Here's a look at projected standings as of April 2nd using my RotoValue projections: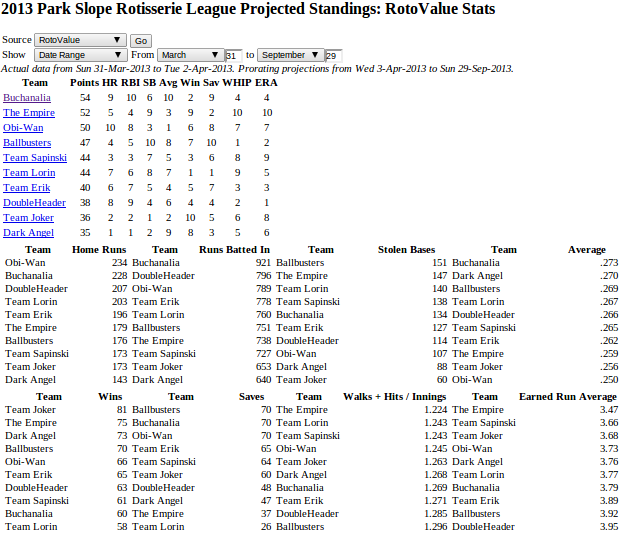 The projected standings page mixes actual past stats with some form of future projection, either prorating actual stats from some past timeframe, or using one of the projection models. So clicking on the page in the future will show different numbers, as more actual data, and less projected data, is used. This league is bunched into three tiers in these projections, with just 5 points separating the bottom 4, 4 points separating the top 3, and 3 points separating places 4-6.
Using Tim Obershlake's MORPS, the league is even tighter: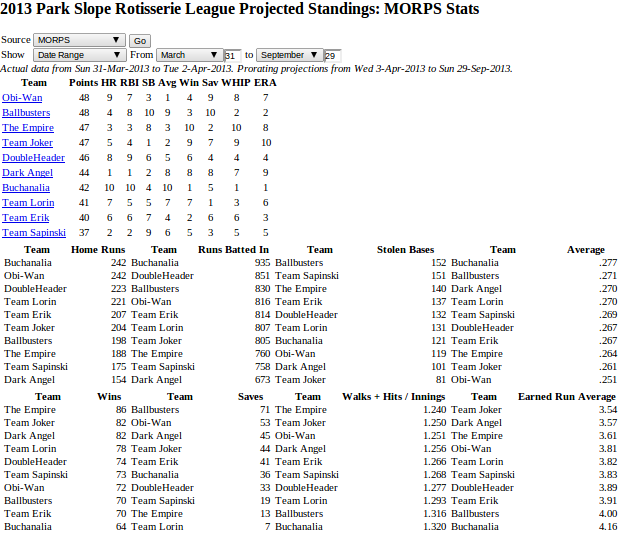 Now it's a tie at the top, with 5 teams within 2 points of the lead, and just 11 points separating the best and worst teams. It will be interesting to revisit these projections after the year, to compare them with the actual standings!
The initial rosters, and auction prices, of the Park Slope league are here. The league has a $30 salary cap for 280 players. Mike Trout ($4.60), Miguel Cabrera ($4.20), and Justin Verlander ($4.10) were the three most expensive players, and somewhat unusually for me, I didn't win any of them.
Of course, now the games count for real. It's still interesting to look at projections, to get an idea of potential category strengths and weaknesses. But a lot can, and will, change during the long season. Play ball!