Today I'm reviewing the NL's top 20 catchers in a 5×5 league, assuming 10 teams, 23 active players (2 catchers,  3 middle, 3 corner, 5 OF, 10 pitchers) and a 4 person bench purchased with a $260 salary cap. I'd previously reviewed top outfielders, middle infielders, and corner infielders.
The list I'm showing this time is enough players to fill all starting slots in the league: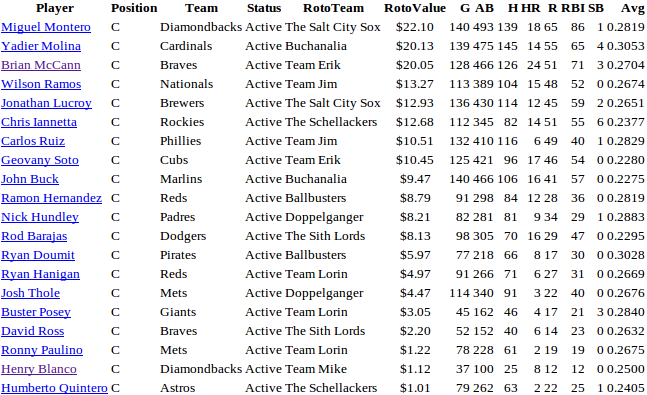 This year's catchers break down quite nicely into tiers. The elite tier is Miguel Montero, Yadier Molina, and Brian McCann, all worth $20 or more. Montero takes the top spot by leading all catchers in both runs and RBI by a fairly wide margin, and being 2nd in HR to McCann, giving him $2 more value than the other elite backstops. His .282 average is also a positive, especially compared to others at the position. Molina and McCann had virtually identical overall value, but by contributing in different categories. McCann hit 10 more HR, while Molina's .305 average was well above McCann's .270. McCann drove in 6 more runs, while Molina scored 4 more and had an extra steal.
There's over a $6 gap to the next tier, Wilson Ramos, Jonathan Lucroy, and Chris Ianetta, but just $0.59 separate them, so they all basically had the same value. Ramos had the best average of the three, at just .267, and he had the most HR, 15. Lucroy drove in 59 runs and nearly matched Ramos in average. Ianetta's cumulative totals were good – 14 HR, 51 runs, 55 RBI, and a position-best 6 SB – but his value was hurt by a .238 average.
Carlos Ruiz and Geovany Soto finished in a virtual tie, with John Buck $1 behind. Ruiz hit for a good average, .283, but posted lackluster cumulative totals, just 6 HR, 49 runs, and 40 RBI. Soto showed more power (17 HR, 54 RBI), but was weighed down by just a .228 average. Buck's year was quite similar to Soto's, but he had 1 less HR, scored 5 fewer runs, and had 45 more AB at a terrible average, and so was worth about $1 less.
Next come three catchers worth $8 and change: Ramon Hernandez, Nick Hundley, and Rod Barajas. At this point the best you can hope for is some contribution in one, maybe two categories. These are the first catchers not to play at least 100 games, and they also had only about 300 AB, well below all those ranked ahead of them. Hernandez's positives were a dozen HR and a .282 average. Hundley hit .288, but with 3 fewer HR. Barajas had 16 HR and 47 RBI in just 305 AB, but hit just .230.
The next tier is Ryan Doumit, Ryan Hanigan, and Josh Thole. Doumit hit  a fine .303, but in just 218 AB, and so his cumulative totals were bad. Yet that average did at least provide some value to his owners, earning him $1 more than Hanigan, and $1.50 more than Thole. Hanigan hit .267, but scored 10 more runs than Doumit. Thole played the most of the three, and actually drove in 40 runs, but he scored just 22, hit only 3 HR, and had a so-so .268 average.
It's a sad comment on the position depth at catcher in the NL this year that Buster Posey could break a leg in May and still be among the top 20 producers at the position. And he wasn't even having that good a season when he got hurt: he was hitting .284 with 4 HR, 17 runs, 21 RBI, and 3 SB in just 45 games. That was still worth $3.05, as a good average from a catcher is a rare sight indeed. Posey's replacements, Eli Whiteside and Chris Stewart, hit just .197 and .203, with weaker cumulative totals in more ABs. If he stayed healthy and produced at the same rate, Posey would have likely been just behind the elite tier.
The last 4 are either backups to elite catchers (David Ross and Henry Blanco) or share the job more, but simply don't hit much. Blanco deserves special mention because of his unusual line. He had just 100 AB backing up Miguel Montero, but in that time he hit 8 HR, which is actually tied for 12th best among catchers. Montero had just 12 runs scored and 12 RBI, meaning that he only drove in 4 other runners, and only scored 4 times when he didn't homer.
Catcher is by far the weakest position in the NL this year, and it underscores why position eligibility must be part of a good pricing system. Each team needs a catcher (or, in some formats, two), and getting production at that position while others have a near zero is quite a competitive advantage. But it's also a position of greater injury risk, too, as those who bid $15 or more on Buster Posey this year would surely tell you.