Continuing the series of top NL performers in 5×5 leagues by position, today I'm showing the top outfielders. Previously I've discussed the top middle infielders and the top corner infielders. As before, I'm assuming a 10 team league, $260 salary cap, and an active roster of 23 players (2 catchers, 3 middle infielders, 3 corner infielders, 5 outfielders, and 10 pitchers), with a 4 player bench.
The top 30 outfielders: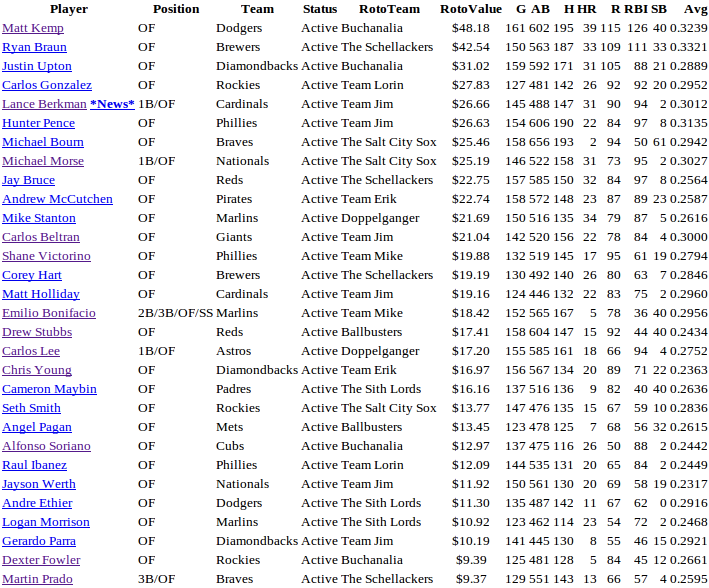 Matt Kemp had an utterly dominant year, leading the league in HR, RBI, and runs scored, while also tying for 2nd in SB and finishing 3rd in average. Ryan Braun was almost as good in each cumulative category, and was actually better in average, but those differences added up to over a $5 difference in price. But the gap between Braun and the #3 OF, Justin Upton, was over twice as large as that between Braun and Kemp. Upton did well in all 5 categories, but Kemp and Braun were simply better across the board.
Next was another 5-category contributor, Carlos Gonzalez, whose production fell sharply from 2010, yet was still excellent across the board.
Lance Berkman returned to the NL as a seemingly over the hill player, but he rebounded quite well in St. Louis. While he didn't run, he did hit for power and average, and played 21 games at 1B, enough to qualify there in many leagues for 2012. That positional flexibility gives him a slight boost, moving past Hunter Pence.
Michael Bourn led the league in SB by a wide margin, and while he lacked power, his run scoring and average was quite a valuable combination. Michael Morse played more 1B, but still played 55 games in the outfield. He had the year the Nationals were expecting from Jayson Werth, batting .303 with 31 HR and 94 RBI.
Jay Bruce and Andrew McCutchen round out the top 10, earning almost exactly the same value: Bruce's extra HRs and RBI offset McCutchen's extra SB.
While $5.64 separates the top two outfielders, and $25.44 separate #1 Kemp from #10 McCutchen, just $5.53 separate #11 Mike Stanton from #20 Cameron Maybin. All the outfielders here do some things well, but others not so well. From an overall value perspective, it doesn't matter much which player you get from this group, but here is a good spot to look for players to contribute in particular categories. Maybin lacked power and had a mediocre average, but stole 40 bases. Corey Hart hit homers, but had surprisingly few RBIs and didn't steal much. Carlos Beltran had his healthiest season in years, with solid power and a .300 average. If Drew Stubbs can figure out how to hit for average, he could be quite a star, but a .243 average, and just 44 RBI, limited his value this year. Or he may simply continue along Chris Young's career path, which is good, but not outstanding production, if you can stomach the low average. Shane Victorino's steal total has fallen, but he had the highest slugging percentage of his career. Matt Holliday continued to hit for good average and power. Super utility man Emilio Bonifacio makes the list at OF, middle, and corner infield – he has almost no power, but nearly hit .300, and stole 40 bases. Carlos Lee split time between 1B and OF,  leading the Astros in RBI.
The next 10 are even more tightly bunched, with just $4.60 separating #21 Seth Smith from #30 Martin Prado. Smith was conspicuously mediocre,: his line of .284, 15 HR, 67 runs, 59 RBI, 10 SB had no genuinely bad categories, but also no particularly good ones. The rest of the players in this group all had at least one major weakness, usually offset by some other strength. Angel Pagan had 32 SB, but just 7 HR. Raul Ibanez, Jayson Werth, Alfonso Soriano, and Logan Morrison all hit at least 20 HR, but they all also hit under .250. Werth did at least steal a bit (19), but his was the worst average, at just .232. Andre Ethier hit a nice .292, but didn't do much else – 0 SB, 11 HR, and fewer than 70 runs or RBI. Gerardo Parra matched Ethier's average, and had 15 SB, but just 8 HR and 45 RBI. Dexter Fowler scored 84 runs, but had little power, a poor average, and only a dozen steals.
This list is just the top 30 outfielders, but a 10-team NL using 5 per team needs to find at least 20 more – possibly some players with multiple eligibility, like Carlos Lee or Emilio Bonifacio, would be used at a different position. So this configuration is a rather deep league.