This year the Angels signed Shohei Ohtani, the young Japanese star who played both as a pitcher and outfielder for the Hokkaido Nippon Ham Fighters of the Japanese Pacific League. As in Japan, Ohtani is expected to continue to play extensively both as a pitcher and hitter.
Some players have played significantly at the major league level in both capacities in different seasons (most recently Rick Ankiel, and more famously Babe Ruth), but in the modern game it is unheard of for one person to contribute both as a batter and a pitcher in the same season. Until, probably, 2018, when Ohtani seems poised to do so.
This raises the question of how to handle Ohtani for fantasy purposes.
Yahoo! is handling Ohtani by turning him into two different players, a batter and a pitcher, and they're allowing different fantasy teams to own the different stats of Ohtani. While I can see how that might be an easier technical fix in some platforms, it's ugly, and it loses the benefit of flexibility a two-way player gives a real MLB team. Allowing different fantasy teams to own Ohtani's batting and pitching stats is simply wrong, and making a team use two roster spots to be able to get all of Ohtani's stats does't match the true flexibility the Angels will have by having a single player capable of contributing both in the batters' box and on the pitching mound.
CBS and ESPN are a little better: they let you put Ohtani either at P or in a batting slot, but they only count the pitching stats when he is in your lineup as a pitcher, and just the batting stats when he's in your lineup as a batter. While that's not terrible for a daily transaction league (you can swtich Ohtani in your lineup based on where he'll play for the Angels to get most of his stats), you'll still lose out on Ohtani's offensive stats on days he's pitching in an NL park and has to bat for himself. If you're in a league with weekly transactions, though, this solution forces you to decide whether you want Ohtani's batting or pitching numbers for an entire week.
RotoValue lets you have the best of both worlds: by default, it will count all Ohtani's stats, no matter where you play him.
Because RotoValue already supports an option to count pitcher's batting stats (and/or batters' pitching stats), it was actually quite easy to enhance it to support counting both types of statistics for a player who qualifies at both an offensive and pitching position, while only counting the primary statistics for players who just qualify at one type. So by default, RotoValue will count both batting and pitching stats for Ohtani whenever he plays, but will ignore other pitchers' batting statistics and other batters' pitching statistics. Strictly speaking, this is not special treatment for Ohtani, but would apply to any player who qualifies both as a pitcher and a batter. It's just that for now, Ohtani is likely to be the only one to do so: for now RotoValue is listing him as SP/DH, although it's possible we may give him OF eligibility instead (or in addition to) DH eligibility.
Suppose you really want Ohtani to count only as a pitcher. You can simply set his custom position to be SP only, and his batting statistics will no longer count. Or you could make him eligible at DH or OF only, and then only his batting statistics would count. Such changes would take effect immediately and retroactively: reload a standings or team stats page after changing the setting, and the full season totals will reflect the new settings.
So – how do you change a player's position?
If you have administrator rights for your league, on the Player Detail page there's a menu item under Settings: "Set custom position for…".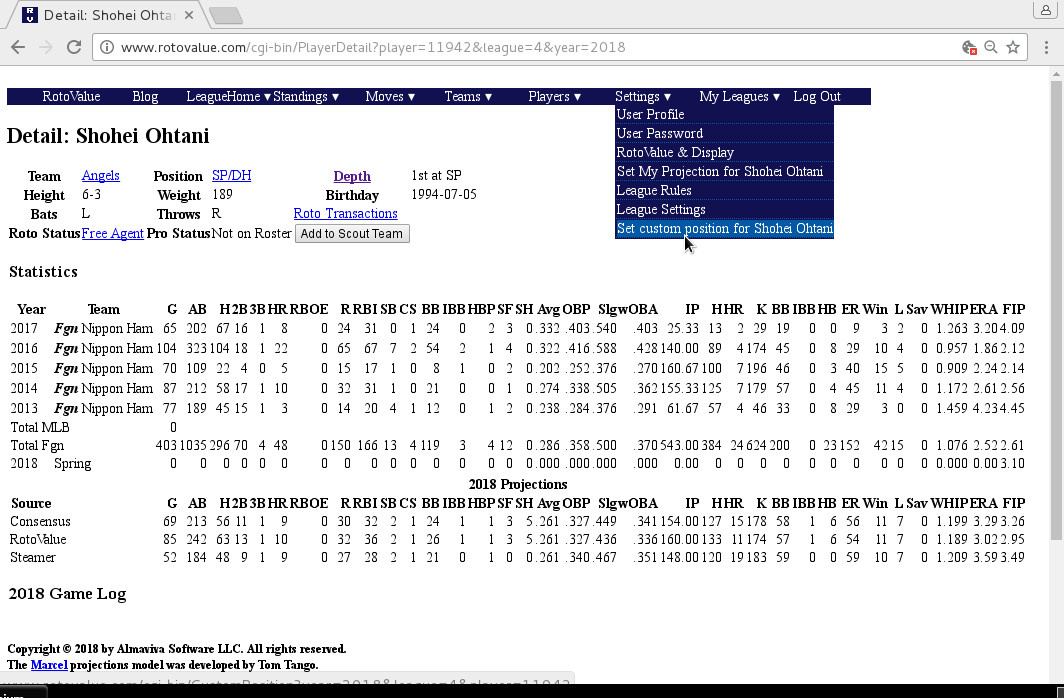 That menu option gives you a page where you can override the position for a player: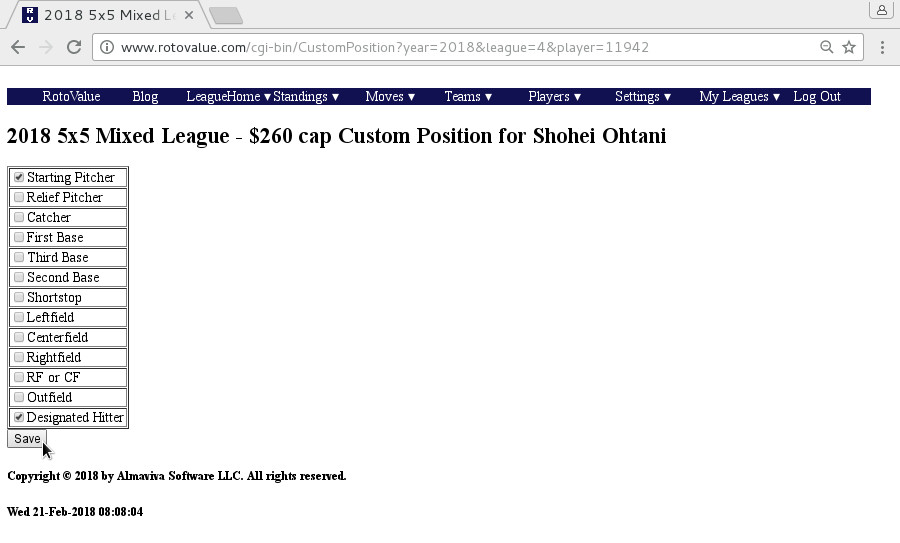 If you simply want all of Ohtani's stats to count, you won't have to make any of these changes, but if you want him to be a pitcher only (or, less likely, a batter only), you'd need to override his default position. So RotoValue gives you the choice to handle Ohtani how you think it makes better sense for your league.
Alternatively, if you want to count all pitchers' batting (and/or batters' pitching) stats, you can choose those options directly from the bottom of the main league Settings page: