Tom Tango asked an interesting question on Twitter yesterday: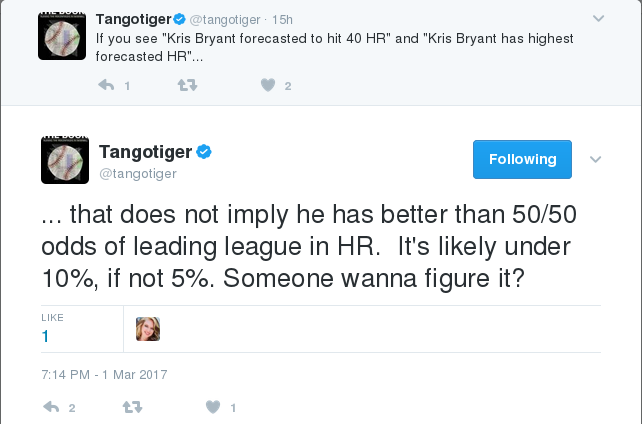 The odds of the projected HR leader actually leading the league is an interesting question. I've been doing projections since 2011, so I thought I'd sweep my database for the RotoValue projections and see what that history was. That gives me just five years, but it turns out my projection model did correctly name the MLB home run leader once in those five years, or 20% of the time. Chris Davis hit 47 HR in 2015, leading MLB, while my model projected him to hit 35 HR. Note that when you're leading the league, you're not only very likely beating your own projection, you're also probably beating all the projections, because the projected totals can be considered a weighted average of all possible outcomes for that player, and the possibility of a bad year or injury will pull that average down from what a peak player will produce when healthy. Also it's not unusual for the league leader to be a player having a breakout year, well above what his past performance suggested.
Last year, Mark Trumbo's career-best 47 HR topped MLB, despite my model projecting him for just 21.3 HR, the 46th best total. My projected 2016 leader was Chris Davis again, now projected to hit 37.9, and he actually slightly edged that out, with 38 HR. But I was not projecting the overall home run surge, and Davis's 38 HR ranked only 12th best.
The actual MLB HR leader has regularly surprised my projections model. Only one other year, 2012, when Miguel Cabrera's 44 HR led, was the actual leader among my preseason projected leaders (my model projected 34.5 HR for Cabrera, the 5th best projection). In the other years, the leader was projected 36th (Nelson Cruz moving to Baltimore in 2014), 90th (Chris Davis in 2013) and 73rd (Jose Bautista in 2011) by my model.
Over the 6 years, of the 60 players projected to finish in the top 10, 22 of them did so. Also, 24 of the 60 equaled or bettered their projected total, while 36 failed to reach the projected value.
Below the jump I've put tables for each year showing players projected to be in the top 10 in HR in my model, along with any players who actually finished in the top 10, along with their projected values.

2016
Name
ProjHR
ProjRank
ActHR
ActRank
Chris Davis
37.9
1
38
12
Giancarlo Stanton
35.2
2
27
47
Mike Trout
35.0
3
29
38
Nelson Cruz
33.0
4
43
2
Jose Bautista
32.9
5
22
78
Edwin Encarnacion
32.4
6
42
3
Bryce Harper
29.9
7
24
65
Anthony Rizzo
29.7
8
32
22
Josh Donaldson
29.3
9
37
14
Jose Abreu
29.3
10
25
55
Chris Carter
27.9
15
41
6
Nolan Arenado
26.4
17
41
7
Kris Bryant
25.3
21
39
9
Khris Davis
24.9
22
42
3
Todd Frazier
24.4
30
40
8
Brian Dozier
22.0
38
42
3
Mark Trumbo
21.3
46
47
1
Robinson Cano
17.9
77
39
9
2015
Name
ProjHR
ProjRank
ActHR
ActRank
Chris Davis
35.0
1
47
1
Miguel Cabrera
32.2
2
18
70
Giancarlo Stanton
31.4
3
27
25
Mike Trout
30.9
4
41
5
Jose Abreu
30.5
5
30
19
Nelson Cruz
30.4
6
44
2
David Ortiz
30.2
7
37
12
Edwin Encarnacion
29.8
8
39
10
Jose Bautista
28.6
9
40
7
Adam Jones
28.3
10
27
24
Albert Pujols
25.4
13
40
8
Josh Donaldson
21.9
26
41
6
Bryce Harper
20.1
40
42
3
Carlos Gonzalez
18.6
49
40
8
Nolan Arenado
15.3
86
42
3
2014
Name
ProjHR
ProjRank
ActHR
ActRank
Miguel Cabrera
36.0
1
25
21
Chris Davis
32.9
2
26
20
Adrian Beltre
31.1
3
19
57
Giancarlo Stanton
30.5
4
37
3
Edwin Encarnacion
29.8
5
34
8
Mike Trout
29.6
6
36
4
Jose Bautista
28.5
7
35
7
Prince Fielder
28.4
8
3
320
Adam Jones
28.0
9
29
12
Adam Dunn
27.3
10
2
366
David Ortiz
23.5
24
35
6
Nelson Cruz
21.0
36
40
1
Chris Carter
19.8
47
37
2
Anthony Rizzo
18.1
60
32
9
Victor Martinez
15.6
88
32
9
Jose Abreu
14.0
110
36
5
2013
Name
ProjHR
ProjRank
ActHR
ActRank
Jose Bautista
34.5
1
28
16
Miguel Cabrera
34.2
2
44
2
Giancarlo Stanton
31.9
3
24
31
Ryan Braun
31.6
4
9
194
Jay Bruce
30.7
5
30
11
Albert Pujols
30.5
6
17
80
Josh Hamilton
30.4
7
21
52
Adrian Beltre
29.7
8
30
10
Mark Trumbo
27.8
9
34
6
Josh Willingham
27.8
10
14
107
Adam Dunn
26.5
15
34
7
Edwin Encarnacion
26.3
17
36
3
Adam Jones
25.0
22
33
8
Evan Longoria
22.5
35
32
9
Paul Goldschmidt
21.6
44
36
3
Pedro Alvarez
18.3
72
36
3
Chris Davis
17.0
90
53
1
2012
Name
ProjHR
ProjRank
ActHR
ActRank
Albert Pujols
40.6
1
30
23
Prince Fielder
40.1
2
30
23
Giancarlo Stanton
36.6
3
37
7
Mark Reynolds
35.9
4
23
52
Miguel Cabrera
34.5
5
44
1
Jay Bruce
33.6
6
34
10
Jesus Montero
33.4
7
15
117
Evan Longoria
32.3
8
17
97
Dan Uggla
31.8
9
19
79
Joey Votto
31.8
10
14
129
Ryan Braun
31.4
13
41
5
Adam Dunn
30.3
16
41
5
Curtis Granderson
26.6
20
43
2
Josh Hamilton
24.5
27
43
3
Edwin Encarnacion
22.8
39
42
4
Adrian Beltre
21.9
49
36
8
Josh Willingham
19.3
72
35
9
2011
Name
ProjHR
ProjRank
ActHR
ActRank
Prince Fielder
42.3
1
38
5
Albert Pujols
41.4
2
37
6
Ryan Howard
41.0
3
33
10
Adam Dunn
39.7
4
11
143
Mark Reynolds
36.6
5
37
6
Miguel Cabrera
34.9
6
30
21
Ryan Braun
34.4
7
33
11
Mark Teixeira
34.2
8
39
3
Carlos Quentin
32.8
9
24
43
Evan Longoria
32.7
10
31
16
Giancarlo Stanton
32.4
11
34
9
Dan Uggla
29.3
16
36
8
Matt Kemp
23.9
39
39
3
Jose Bautista
19.2
73
43
1
Curtis Granderson
14.7
120
41
2