Blue Jays' starter Mark Buehrle is off to a great start so far this season, leading the majors with 6 wins, with an ERA of 1.91. While not as impressive as his ERA, Buehrle's FIP, fielding-independent pitching, is a still-excellent 3.04, which would be a career best by nearly half a run, and is more than a full run under his career mark of 4.10.
Buehrle has been a workhorse, noted more for his durability than anything else. The lefthander has made at least 30 starts, and pitched at least 200 innings, for 13 straight seasons. He has made 4 All-Star teams, and so far seems a good bet to make a fifth, but only once, in 2005, did he ever receive votes for the Cy Young Award. He's been an innings eater, reliable, but not an ace. This year, however, he's pitched like an ace.
So what's behind his sudden improvement? Will he continue to dominate, or will owners who expect that face a tragedy of nearly Shakespearean proportions?
Buehrle turned 35 this March, and it's rare for pitchers to improve this much, period, let alone at age 35. At first glance, he seems like the same pitcher he's always been. His walk rate this year is actually slightly higher than it was in 2013, and his strikeout rate is a little lower. Nor does he initially seem to be getting unusually lucky: his BABIP this year is .288, better than last year's .305, but actually a tad worse than his career mark of .284. What's changed is that Buehrle simply isn't giving up home runs. Last year he gave up 24, and only once in his career had he ever given up fewer than 17 over a full season. This year, however, he's given up just 1 HR in 47 innings. And that's the difference. At his career HR rate, he allows 5.2 HR per 47 innings. Simply adding in 4.2 more ER would raise his ERA from 1.91 to 2.72, but some of those extra HR would likely drive in other runs as well. Adding an extra half-run per missing HR gets the ERA up to 3.12, which would match his career best from 2005. So the HRs don't explain the entire story. But they do explain most of it, and it's plausible that sequencing variation might explain the rest.
Digging a little deeper, I took a look at  batted ball statistics from Fangraphs, and that has some interesting numbers. Somewhat surprisingly, Buehrle's ground ball percentage dropped this year, to 40.4%, down from 45.4% last year and a career average of 45.3%. That rate would be the lowest of his career if sustained. I expected more ground balls if he's not giving up home runs. Yet his FB% is also down a little, to 32.9%, and his HR/FB% is an astonishingly low 2.1%. It seems that for whatever reason, the fly balls off Buehrle simply haven't been going out of the park. If his GB ad FB rates are both down, then his line drive percentage is up, to a career-high 26.7%, well above his career average of 20%. Ground balls are more likely to be hits than fly balls, but line drives are more likely hits than either. So it's somewhat surprising to me that his BABIP isn't higher, given the career high LD%. But it's still early in the year, and so these sample sizes are all small.
And indeed that's what I'd say about Buehrle's season so far. He's been a solid, if unspectacular, pitcher for years, and I seriously doubt that has fundamentally changed. It seems likely that he's been getting a little lucky with BABIP, and so far very lucky with HR allowed, and I strongly suspect these will likely revert more towards his career norms. His xFIP this year is just 4.05, right in line with last year's 4.09 and his career mark of 4.20.
Compared to my preseason projections for Buehrle, RV Current hasn't moved much at all, projecting a 4.06 ERA and 1.286 WHIP now, down slightly from 4.13 and 1.292 in my preseason projections. Indeed the biggest change was that the model now projects him for about 10 fewer total innings, which, given how I allocate wins, winds up costing Buehrle about half a win, enough to round down to 9 instead of up to 10 in my last preseason projection. One minor feature of RotoValue: while projections show just whole number values for counting stats like wins, saves, and strikeouts, if you leave the mouse hovering over a number, I'll show the projected value to 2 decimal places: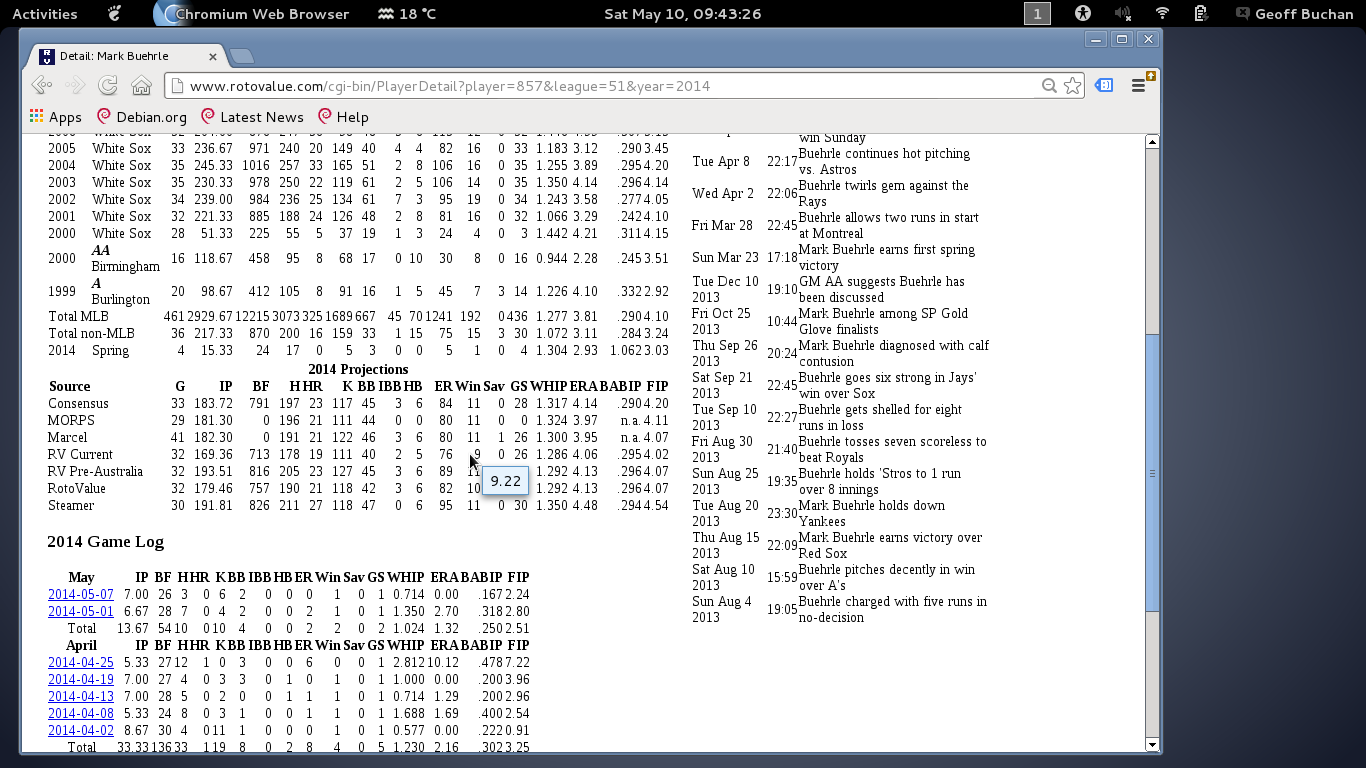 If you own Buehrle in a fantasy league, consider yourself lucky to have enjoyed the ride, and look to sell high. If you can convince some other owner to give you the value for an All-Star caliber starter in return, take it. Quickly. If, say, Madison Bumgarner's owner is panicked after his slow start (he had a 1.685 WHIP and a 4.25 ERA in April) and would trade him straight-up for Buehrle, you should jump on the chance. Alas, it's probably too late to swing something like that, as Bumgarner has a 0.64 ERA and 2 wins in 2 starts in May. But you get the idea. Buerhle has been quite effective so far, but it looks like this is just a hot streak driven mostly by an excessively low HR rate. Once that returns to normal, his numbers will likely revert to their career norms.
Disclosure: I actually own Bumgarner in the Going 9 Expert's League1 this year now, as a panicked owner actually dropped him in the shallow league, and I scooped him up right away. Next week, I also picked up Buehrle, who was still sitting on the waiver wire after winning his 4th straight start. I wasn't expecting much, and ironically was burned by trying to ride the hot hand, as the first week I put him in, he had his only loss and bad start so far this year. Since then, he's posted 2 more nice wins, only one of which was on my bench. So I can't complain!
1Alas, Mark Healy, the league's commissioner, had already set up a Yahoo! site for this league when I got a team, as I'd have loved to host the official standings at my site. But I've been shadowing the moves here. The standings don't match exactly because, well, Yahoo! has an annoying trait, at least for its free league. If you make a pickup after midnight PDT on the first day of a week, it doesn't take effect until the following week. And the site doesn't support retroactive moves, even by a commissioner. I've applied such moves for the immediate, rather than the following, week. Also, my site counts (or could ignore, if the commissioner prefers) the two Australia games; Yahoo! didn't count those games.