My two long-time baseball leagues, the Park Slope Rotisserie League, and the Ezra Stiles Rotisserie Association, both share the same free agent bidding/handling system, and I like it quite a bit.
One of the big questions in fantasy sports leagues is how should you allocate players who are new to the league? Many leagues use a waiver process, where teams ranked lower in the standings, or maybe teams that have gone longest without making a pickup, get priority. For high value players, this is unsatisfying, as plenty of owners will want the guy, but some arbitrary rule determines who will get him.
Some leagues simply have a first-come, first served policy, where whoever makes the pickup first gets the player. That rewards owners for paying close attention to news, or perhaps simply being able to pay attention, so I like this a little better than a waiver process, but it still doesn't seem fair, and there can be a race to make a move in response to news. I still recall hearing about a trade that sent Lee Smith to the Cardinals in 1990 on the radio, and rushing to call our league commissioner while hoping he hadn't heard of the move first. I was lucky enough to win Smith, who then saved 27 games for the Cardinals after the move.
Others use a FAAB (Free Agent Acquisition Budget) bidding process, where teams start with a fixed budget, and enter sealed bids, with the highest bid winning a player.
Our leagues use a hybrid of the latter two. These are Rotisserie scoring leagues, and lineup changes only take effect weekly. So we have a FAAB auction, scheduled to run at 6:00 AM EDT on the first day of the week. The highest bid on an unowned player in that auction wins him.
The problem with FAAB bidding as some sites process it, however, is that if you lose your bid(s), you might not get a new player to replace an injured player. Our leagues handle this situation by having a short window of first-come, first-served pickups, between the bidding deadline and the weekly move deadline. So if you need to make a pickup for your injured player, but you don't win the FAAB auction on the guy you wanted, you can pick someone else, whom nobody else bid on, to replace your injured guy. You get the best of both worlds: competitive bidding for highly valued players, but flexibility to fill a slot with somebody no one else bothered to bid on, all before your weekly deadline! And while you still need to pay attention, you don't have to stay plugged in 24/7 to transaction news.

Here's the FAAB auction results for recent Astros' call-up George Springer, who had stellar minor league numbers: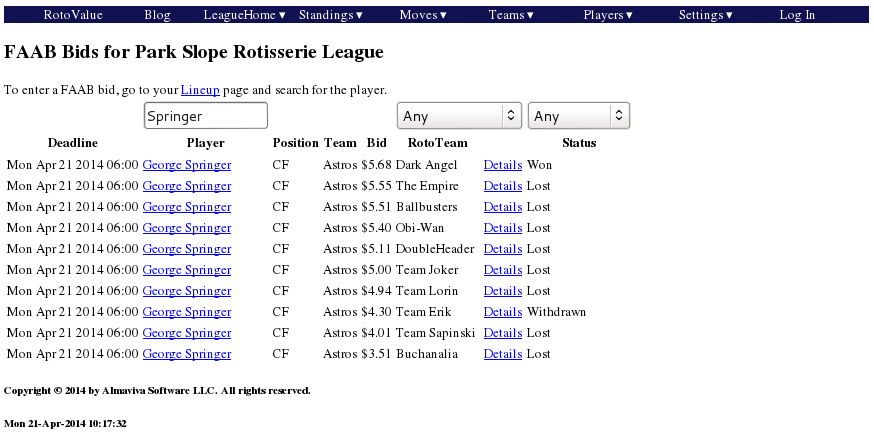 This is a 10-team league with an initial $6.00 FAAB budget, so each team at some point entered a bid, and all bids were at least for half of the team's total budget. Springer has been stellar in the minor leagues, hitting for average with lots of power and plenty of steals. In fantasy terms, he does it all. Here's a snippet from the RotoValue PlayerDetail page for Springer: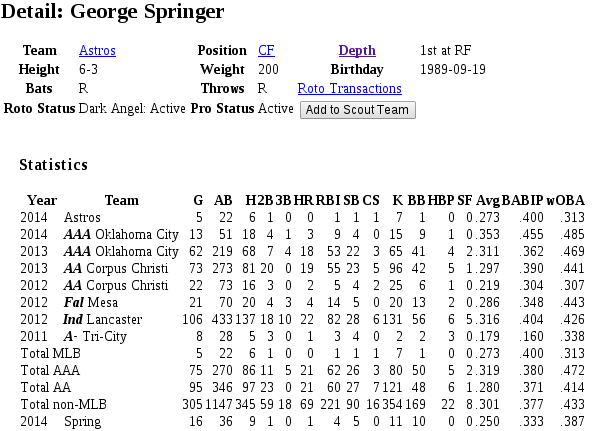 In parts of 2 years in AA, he hit 21 HR and stole 27 bases in just 346 AB in AA Corpus Christie. Moving up to AAA, he was even better, hitting .319 with 21 HR and 26 SB in only 270 AB. And now he gets a chance to play every day in Houston. No wonder everybody wanted to bid on him!
(To view minor league, or foreign, statistics on RotoValue, you need to be authorized for RotoValue Analyst, which also gives you customized RotoValue dollar values for all your leagues and the ability to customize display fields. A bargain at just $10!)
Your commissioner can set up FAAB bidding for your league. Here's some of the setup options for FAAB and baseball:



You can use FAAB bidding either for all pickups, or only for players new to the league (e.g. minor league call-ups, or players traded from the other major league). You can set your own auction deadline date and time, choosing either a particular day of the week, or the same day as the move deadline for the date. The bidding deadline will move one day earlier automatically if there is a game that starts before the deadline on the usual day. For AL or mixed leagues that want to have a noon deadline, this would happen today, because of an early Red Sox game because of the Patriots' Day holiday in New England.
The minimum bidding window setting sets how long a player must be in the league before the next bidding deadline to be eligible for that week's auction. In the picture, with a 6:00 AM deadline and a 6 hour minimum bidding window, any player called up after midnight but before 6 AM on the deadline day will have an auction that ends a week later. The point is that we wanted to give owners in the league some amount of time to learn the player is in the league before someone else can bid on him (or pick him up, should no one bid). So if a trade was announced shortly before your bidding deadline, the FAAB auction for new players will run to the following week.
Some other configuration options include counting (or ignoring) statistics compiled in the other major league for a single-league setup, counting pitchers' batting statistics, and showing non-roster and/or minor league players in statistics searches. Any player who compiles major league stats will show up in mixed league searches even if they're currently in the minors or not on a roster, but other minor league or non-roster players will not show up unless you enable those settings. Player searches for entering rosters or on a lineup page will show them no matter how you set this setting.