So I uploaded the results of the Going9baseball mock draft to my web site as the 5×5 mixed demo league, and from there I can run projected standings. These numbers assume the lineups stay the same all year, and use projected stats to see how we stack up. The image will link to a dynamic page at the site: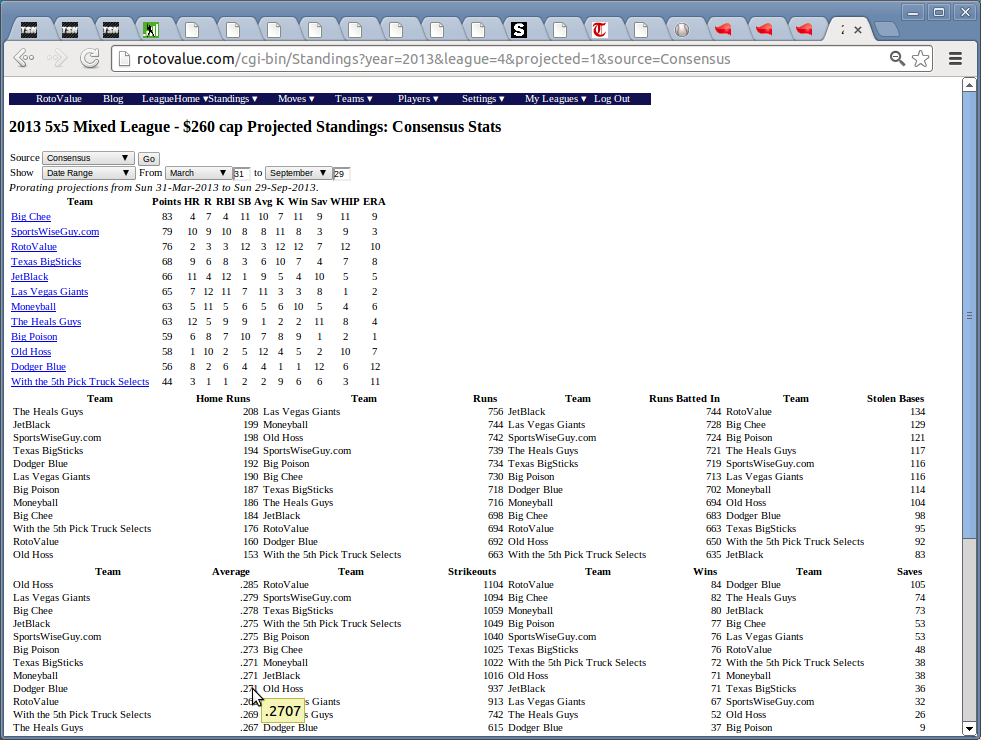 Big Chee and SportsWiseGuy.com appear to have the strongest and most balanced teams in the consensus numbers, while my RotoValue picks had the best overall pitching, and Las Vegas Giants had the best overall offense. The Heals Guys and JetBlack both stockpiled power, with the former being weak in batting average, and the latter weak in SB.
From the page, you can switch to other projection sources to get a different opinion. Ironically my drafted team ranked lowest using my own RotoValue projections compared to others, but I'll freely admit I was looking more at consensus numbers than my own while drafting anyhow.
Another minor interface feature I note in the picture above is that when there are ties in standings for percentage categories, if you move your mouse over one of the numbers in the tie, you'll see a "tooltip" showing that number to more precision. The image above shows Dodger Blue's batting average as .2707, which is a little below the .271 rounded averages Moneyball and Texas BigSticks had. The team name links go to pages detailing each team's players and their (in this case projected) stats.
During the season, projected standings will use actual data (including lineup changes) from the beginning of the season, and then use projections (or prorated actual data) for the future, assuming the current lineup stays the same for the rest of the year. You can also use prorated current year stats instead of a projection source for future stats. These summaries give a quick estimate of how teams might stack up, and so they're a good resource for judging your team's strengths and weaknesses.