While the AL MVP debate goes on, in Rotisserie baseball numbers are the entire point. So who was better, Miguel Cabrera or Mike Trout?
Here's how RotoValue ranked batters for the Park Slope Rotisserie League, a 10 team 4×4 league that just finished its 25th season: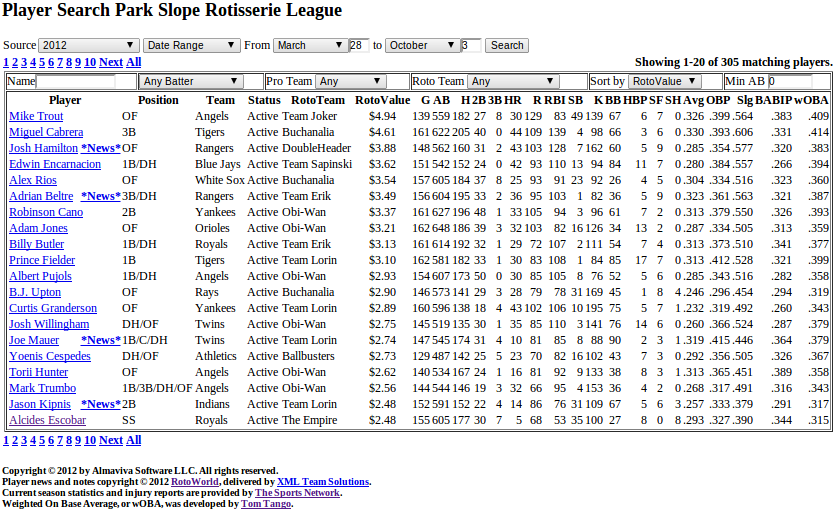 The league has a 28 player roster, starting 24: 10 pitchers, 3 corner and 3 middle infielders, 5 outfielders, 2 catchers, a DH. There's also a 4 player bench per team, and it uses the traditional Rotisserie categories of Average, HR, RBI, SB, Wins, Saves, ERA, and WHIP (hits + walks per IP). It uses a $30 salary cap.
Mike Trout edges out triple-crown winner Miguel Cabrera, because while Cabrera led the league in 3 categories, Trout was right behind him in average, and not that far behind in HR and RBI, while leading the league in SB. Scaled to a $260 cap, Trout's year would have been worth $45.90. Josh Hamilton and Edwin Encarnacion almost matched Cabrera's power, but lagged far behind in average, so that explains the next gap.
Alex Rios bounced back from a poor 2011 to post very good numbers in all four categories and rank 5th.
You may notice I've not listed any pitchers. The top AL pitcher was Justin Verlander with a $3.08 RotoValue, which would rank 11th. I'llI've run down top pitchers in a separate post.
Shortstop used to be a glamour position in the AL, when Derek Jeter, Alex Rodriguez, and Nomar Garciaparra were at the top of their game. No more, as the highest ranking shortstop was now Alcides Escobar, who was 20th among batters (just $0.03 higher than the 38 year old Jeter).
Of course how players rank depends on what your categories are. For comparison, here's the same top-20 batter list, but for a 5×5 league, adding runs scored as the fifth offensive category: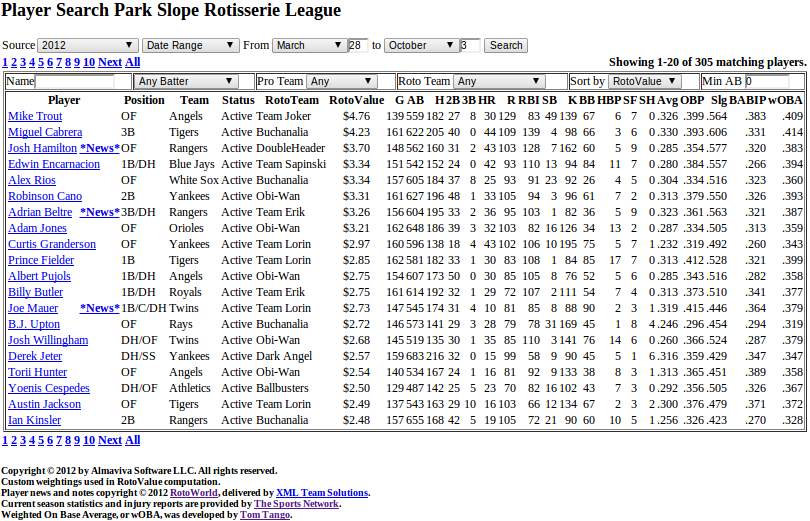 The ordering at the top doesn't change, but the prices do, with Mike Trout's gap over runner-up Miguel Cabrera widening, which makes sense, since Trout led the league in runs scored. More runs helps Josh Hamilton pull further ahead of Edwin Encarnacion, and also lets Alex Rios tie Encarnacion. The top pitcher in 5×5 remained Justin Verlander ($3.29), who led the league in strikeouts.
Rotisserie baseball usually doesn't count defense (although RotoValue currently supports 10 different defensive categories, in addition to far more offensive and pitching ones), so that makes the choice between Cabrera and Trout as Roto MVP harder. When you're counting runs scored, Trout was markedly better, but in a traditional 4×4 league Cabrera was worth just about as much, at least for my league's roster sizes. But who your league's Roto MVP was depends as much on their price (or draft position) as on the numbers they put up. While Cabrera's year was almost assuredly worth the price most owners had to pay to get him, by being a mid-season call-up Trout was likely much cheaper, and often was available as a mid-season free agent.
The scary thing is that Mike Trout just turned 21 this August, so he still may improve further. And Cabrera is still only 29, so while he's probably at about his career peak now, he should be among the best in the league for years to come.