Today I'm discussing the top 30 NL pitchers in a 10-team 5×5 league ranked by RotoValue, using their 2011 stats. I'm assuming a $260 salary cap for 23 active players (including 10 pitchers) and a 4 person reserve bench.
Previously I've reviewed catchers, outfielders, middle infielders, and corner infielders.
Without further ado, the top 30 pitchers: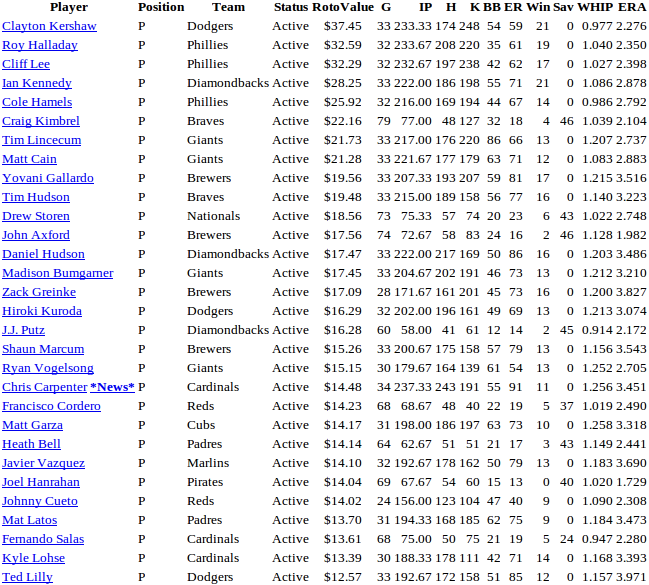 Clayton Kershaw led the league in wins, ERA, WHIP, and strikeouts, so was a clear top player, worth nearly $5 more than any other pitcher. Next came Phillies teammates Roy Halladay and Cliff Lee, whose ratios were quite similar to each other (and Kershaw). Lee had 18 more strikeouts, but Halladay won 2 more games, and was thus a little more valuable. Ian Kennedy tied Kershaw with 21 wins, but his percentage stats and strikeouts, while still quite good, were notably worse than Lee's and Halladay's, so he's all alone as the 4th best pitcher.
Cole Hamels posted better better WHIP/ERA numbers, and almost as many strikeouts, as Kennedy, but he won just 14 games, and so was worth about $3 less.
The highest ranking closer is Craig Kimbrel. Kimbrel tied for the league lead in saves, while recording a stellar 2.10 ERA and 1.039 WHIP. Yet what made him stand apart from other relievers, and ahead of all but the 5 best starters, was an amazing 127 strikeouts in just 77 innings. He slots in below elite starters because, although his ERA and WHIP are similar, and a league-leading save total is as valuable as a league leading win total, Kimbrel threw about a third as many innings as Kershaw or Lee, and so had much less impact on ERA and WHIP than they did, as well as far fewer strikeouts. But his numbers were quite good, enough to put him above all but the elite starters.
Giants teammates Tim Lincecum and Matt Cain were next. Cain had a much better WHIP, but Lincecum had 41 more strikeouts and an extra win, and so earned $0.45 more.
Yovanni Gallardo and Tim Hudson rounded out the top ten, with seasons worth about $19.50. Gallardo had an extra win and 49 more strikeouts, while Hudson posted better ERA and WHIP numbers.
Nationals closer Drew Storen ranked 11th, worth $1 more than Brewers closer John Axford. The big difference here was Storen's 4 extra relief wins. Axford had 3 more saves, 9 more strikeouts, and a better ERA, while Storen's WHIP was a little better. But 4 wins is a big difference. Wins by a closer are quite hard to predict, so while Storen earned more in 2011, Axford likely carries as much, or perhaps more, value when looking ahead to 2012
Daniel Hudson and Madison Bumgarner were worth almost exactly the same as Axford – Hudson posting more 3 wins and a slightly better WHIP, while Bumgarner had the better ERA and 22 more strikeouts. While starters' wins are somewhat less random than relievers, when two players are close, I'd lean to the starter with the lower win total. Zack Greinke ranks just behind these two, as his 3.83 ERA was actually slightly below league average, reducing his value despite 16 wins, 201 strikeouts, and a good 1.200 WHIP.
Hiroki Kuroda and J.J. Putz had almost identical RotoValue prices from contributing in quite different ways. Putz had 45 saves, just one off the league lead, while posting an outstanding 2.17 ERA and .914 WHIP. Kuroda's ERA of 3.07 was much higher, but actually was a little more valuable, because he pitched 144 more innings. By contrast, Putz's WHIP was slightly better than Kuroda's, even after taking into account the innings difference. So the value of Kuroda's extra 11 wins and 100 strikeouts basically offset Putz's saves.
The next two pitchers had basically identical value: Shaun Marcum and Ryan Vogelsgong. Both had 13 wins, while Marcum had a better WHIP, but a much worse ERA. Marcum had more strikeouts, and pitched 21 more innings.
Former Cy Young winner Chris Carpenter had far more strikeouts than either, but 2 fewer wins, and so ranked behind despite pitching even more innings at a similar WHIP to Vogelsgong and a similar ERA to Marcum.
The next 6 pitchers are all worth $14: just $0.21 separates the RotoValue prices for Francisco Cordero, Matt Garza, Heath Bell, Javier Vazquez, Joel Hanrahan, and Johnny Cueto. Garza had the highest ratio of the three starters, and just 10 wins, but he had the most strikeouts.  Vazquez's ERA was worse, but his ratio was better, and he won 13 games. Cueto posted an elite ERA of 2.31, along with an excellent 1.090 WHIP, but threw just 156 innings, and had only 9 wins, which limited his value.
Among the three relievers, Hanrahan had the best ERA and most strikeouts, but had zero wins, while had the best ratio and had 5 wins. Bell had 43 saves and 3 wins.
Mat Latos posted nice ERA and WHIP numbers in Petco Park, but had only 9 wins.
Fernando Salas didn't keep the closer job all year, but he led the Cardinals in saves (24), struck out 75 in as many innings, and posted a 2.28 ERA and an excellent 0.974 WHIP.
Kyle Lohse struck out fewer batters than Craig Kimbrel, but he won 14 games with a good 1.168 WHIP and solid 3,39 ERA.
And coming in at #30, Ted Lilly was a good innings eater. His 3.97 ERA was worse than the league average, but his 1.157 WHIP was quite good, and he added 12 wins.