I wanted to make a quick prediction for the World Series, based on RotoValue. So I'm adding up the 2011 RotoValue prices for each team, assuming the a 16-team 5×5 mixed league, using 24 starters and a 4-person bench, with a $260 salary cap.
First up the NL champion Cardinals (the first wild card team to make the World Series since the 2007 Rockies):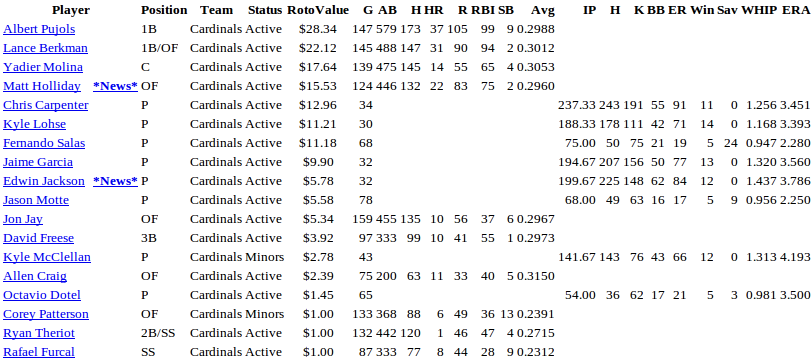 The Redbirds had 18 players with positive RotoValue in this format, 8 pitchers and 10 position players, led by Albert Pujols. The sum for the team is $159.12, but only 2 players were worth more than $20. Berkman was a big surprise, and Yadier Molina had his best season in the majors. The Cardinals had a decent, but not outstanding, rotation, led by Chris Carpenter. Kyle Lohse's percentage stats were better, and he had 3 more wins, but Carpenter had 80 more strikeouts.
The Rangers had a much better fantasy roster, with 21 players having positive value, and a total of $253.68 RotoValue: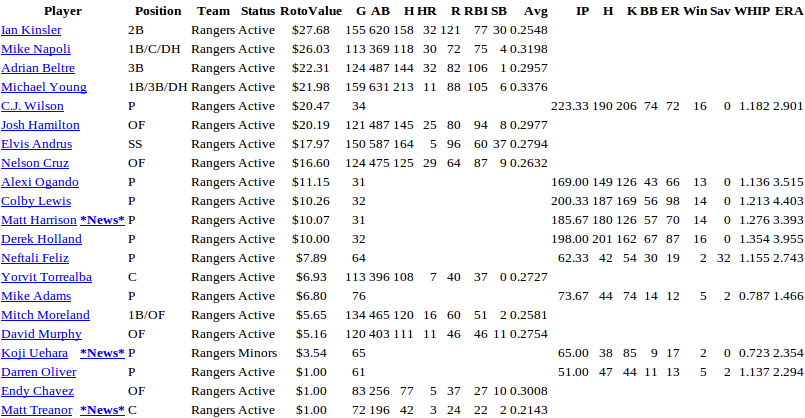 12 batters and 9 pitchers for Texas had positive value. While Albert Pujols had the highest RotoValue of any player in the World Series at $28.34, Ian Kinsler was almost as valuable: he scored a ton of runs, stole 30 bases, and qualified at middle infield.  In addition to Kinsler, Texas had 5 other players worth $20 or more: catcher Mike Napoli hit .320 with 30 HR; Adrian Beltre and Michael Young each drove in over 100 runs; C.J. Wilson posted a sub-3.00 ERA and over 200 strikeouts; and Josh Hamilton hit for power and average when healthy.
5×5 value is only partly correlated with actual overall baseball value – defense is ignored entirely, and stolen bases, wins, and saves are highly overrated, among other weaknesses – but this does also provide a framework for comparing the teams position-by-position.
1B – Huge edge to the Cardinals: St. Louis has Albert Pujols, while Texas has Mitch Moreland. 'nuff said.
2B – Huge edge to the Rangers: Ian Kinsler's RotoValue nearly matched Pujols's, while St. Louis used Skip Schumaker more than anyone else this season at 2nd, and started Nick Punto in game 1. Neither had positive RotoValue.
SS – Large edge to the Rangers: Elvis Andrus stole bases and nearly scored 100 runs. Rafael Furcal struggled with injuries during the season, but Andrus was better in 4 of 5 rotisserie categories, with Furcals only edge an 8-5 lead in HR.
3B – Large edge to the Rangers: Adrian Beltre hit 30 HR, drove in 100 runs, and nearly batted .300. David Freese had a similar batting average, but lagged markedly in HR, RBI and Runs.
C – Edge to the Rangers: Yadier Molina was quite good, posting a .305 average and good power for a catcher (14 HR, 65 RBI), but Mike Napoli was much better, batting .320 with 30 HR and 75 RBI. And Napoli produced more in fewer ABs.
OF – Even: Josh Hamilton and Lance Berkman both drove in 94 runs, but Berkman scored 10 more runs and hit 6 more HR, and hit a little over .300, while Hamilton was a little under .300, but stole 6 more bases. Nelson Cruz earned a little more than Matt Holliday, but it was close: Cruz hit more HR, drove in more runs, and stole more bases, but Holliday hit for much better average and scored more often. David Murphy and John Jay were comparable as well.
DH – Large edge to the Rangers: Okay, it's not really fair to compare DHs with an NL team, but in AL parks, the Rangers have Michael Young at DH, while the Cardinals might hit Allen Craig. And in NL parks, the Rangers can start Young at 1B, greatly reducing the Cardinals' edge there.
Rotation – Edge to the Rangers: Chris Carpenter is a former Cy Young award winner, but C.J. Wilson won 5 more games, struck out 15 more batters in 14 fewer innings, and had a much lower WHIP and ERA despite pitching in the AL. Kyle Lohse did have a much better ERA than Colby Lewis, but Lewis also won 14 games. Matt Harrison's numbers were slightly better than Jaime Garcia's, while Derek Holland won 4 more games than Edwin Jackson, with better WHIP and similar ERA.
Bullpen – Even: Jason Motte is now the Cardinals' closer, but Fernando Salas had the highest RotoValue of any reliever on either team, as he posted 26 saves, a sub-1 WHIP, and 75 strikeouts. Motte was no slouch, either, also with a sub-1 WHIP and a sub 2.3 ERA, and the two combined for 33 saves, one more than Neftali Feliz, who had a higher ERA and WHIP than both. But while the top of the bullpen favors St. Louis, the depth favors Texas, balancing things out. In-season acquisition Mike Adams didn't post saves, but he had a 0.787 WHIP and 1.47 ERA, while fanning 74 in as many innings. Alexi Ogando started during the regular season, but will be used in relief in the postseason.
So the only significant edge to St. Louis is at first base. Texas's edge at second offsets that, and the other advantages leave a quite large total difference in RotoValue favoring the Rangers. Texas is overall the much stronger team – at least from a fantasy perspective!
Update: Game 1 goes to St. Louis. So much for on paper matchups!