Sunday I posted a list of the top 20 NL corner infielders for 5×5 leagues. Today it's the top 20 middle infielders: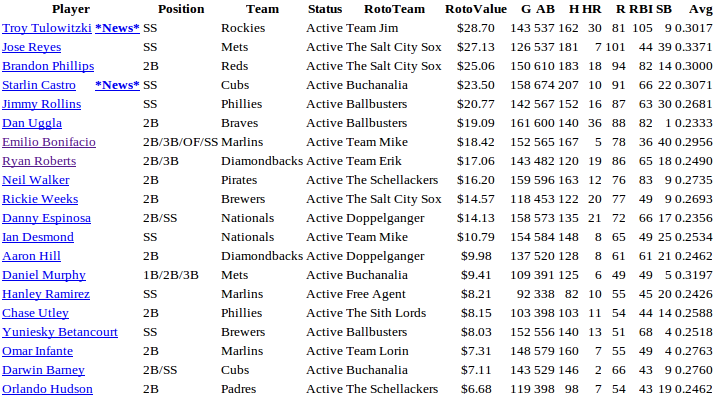 The top slot goes to Troy Tulowitzki, ahead of batting champ Jose Reyes. Reyes was better in 3 categories, but Tulowitzki had more than twice as many RBI and 4 times as many HR, outweighing Reyes's large edge in SB and smaller edges in average and runs. In a 4×4 format, Tulowitzki's lead would be even larger.
Brandon Phillips was the top 2B, and third overall in the middle infield. He didn't match Tulowitzki's power numbers, but scored and stole more, while also still batting .300.
Starlin Casto led the NL in hits with 207 and was strong in runs scored, average, and SB. Jimmy Rollins hasn't repeated his stellar 2007 MVP year, he does provide good power and SB for a shortstop. His cumulative numbers were better than Castro's, despite missing 3 weeks with a strained groin, but Castro's much better average gave him nearly $3 more overall value.
Dan Uggla led NL middle infielders in HR with 36, and he also had good totals of 88 runs and 82 RBI, but those were the only areas he contributed. Just 1 SB and a poor .233 average keep his value out of the top 5, just ahead of utility man Emilio Bonifacio, who played more at SS than anywhere else, but also played significantly at OF and 3B. Like Uggla, he was a 3 category contributor, with a 40 SB, a .296 average, and 78 runs, his value limited by weak power numbers.
Ryan Roberts mostly played 3B, but 28 appearances at 2B would qualify in there in many leagues. He had solid cumulative numbers, but a weak average. Neil Walker was decent in all 5 categories, and he was 2nd among middle infielders in RBI. Rounding out the top 10 is Rickie Weeks, who would have been much higher had he been healthier. Despite missing 44 games, Weeks hit 20 HR and scored 77 runs.
Nationals rookie Danny Espinosa was kept out of the top 10 by a poor .236 average. His cumulative totals were good across the board. Double-play partner Ian Desmond came next, but was weaker in everything but SB and average, and so earned over $3 less.
The Diamondbacks traded Kelly Johnson for Aaron Hill, who had a disappointing season overall. In the previous two years, Hill showed quite a bit of power, but while that mostly evaporated (his HR fell to 8 after 26 and 36 the previous two years), Hill ran more, tripling his previous best by stealing a career high 21 bases.
Daniel Murphy played more at 1B and 3B, but his 24 games at 2B let him show up here, also. Before he tore his MCL in August, he was having quite a valuable year, hitting .320 with 49 runs and 49 RBI in 391 AB, leaving him actually worth a bit more than injured stars Chase Utley and Hanley Ramirez.
Orlando Hudson stole a career-high 19 bases in 119 games, but offset that with a career-low .246 average.