Today I'm beginning a series to show the top players at each position according to their 2011 stats using the RotoValue pricing model. I'm assuming a 10-team NL league, with a $260 salary cap, a 23 player active roster (3 corner, 3 middle, 2 catchers, 5 outfielders, and 10 pitchers), and a 4 person bench purchased at auction, but whose stats do not count.
These prices are assuming a 5×5 league, and also allowing qualification at a new position after playing 15 games in the current season.
The top 20 corner infielders are: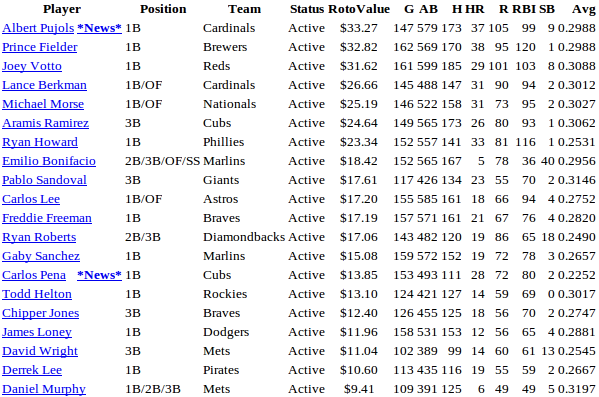 Albert Pujols had the worst statistical year of his career, hitting below .300 for the first time, and also driving in under 100 runs for the first time. Yet it was still just enough to edge out Prince Fielder for the top spot. Fielder had 1 more HR and 21 more RBI, but Pujols's 8 extra SB and 10 more runs scored put him a little bit ahead.  When I reviewed the overall NL top 10, I noted that in a 4×4 format, Fielder was worth a bit more than Pujols, since runs didn't count. Joey Votto hit markedly fewer HR than the top 2, and his higher batting average didn't fully offset that, but he's a clear #3, worth nearly $5 more than the next spot. Pujols, Fielder, and Votto are the top tier, much closer in value to each other than to anyone else on the list.
The next tier is headed by Lance Berkman, an OF who played some 1B while Pujols was on the DL,  and Michael Morse, who played often at both spots. Berkman scored 17 more runs, but otherwise the pair had very similar numbers. Aramis Ramirez is the top 3B on the list, ranking just ahead of Ryan Howard, whose low average and relatively few runs scored keep push him way down. These four are a fairly close bunch, with just over $3 separating Howard from Berkman.
While it's likely Emilio Bonifacio owners would use Emilio Bonifacio in the middle infield, he also qualified at 3B and OF. For those who could live with his abysmal power, he provided more than twice as many SB as any other corner-eligible infielder, and a good batting average. Pablo Sandoval missed the whole month of May with a fractured wrist, but hit well for average and power when he played. Carlos Lee and Braves rookie Freddie Freeman were quite comparable, with Lee having 18 more RBIs, and Freeman having 3 more HR and a better batting average. Ryan Roberts gained 2B eligibility during the year, and his SB helped compensate for a weak average and fairly low RBI total.
The next two, Gaby Sanchez and Carlos Pena, had nearly identical Run, RBI, and SB totals. Pena hit 9 more HR, but his terrible .225 average meant Sanchez had more overall value in standard leagues.  If you league counts OBP instead of batting average, then Pena, who walked 101 times, was worth more.
The biggest disappointment on the list was the injury-plagued year from David Wright. A potential 30/30 producer when healthy, Wright struggled with back problems and totaled just 14 HR and 13 SB, along with a disappointing .254 average, but at least his year still made the top 20. Ryan Zimmerman, who also barely played in 100 games, hit just a dozen homers and had even lower run/RBI numbers than Wright, ranking 22nd overall.