The Houston Astros are moving to the American league for 2013.
This is hardly news – it was announced after the 2011 season, and I did a post about the impact it might have back then.
I've now updated the RotoValue engine so that the Astros are indeed considered an AL team for 2013 and into the future, but still an NL team for 2012 and before. And I've updated demo leagues for 2013, so I can take another look at pricing effects.
So here's a look at the 2013 Astros roster, ranked using raw 2012 statistics: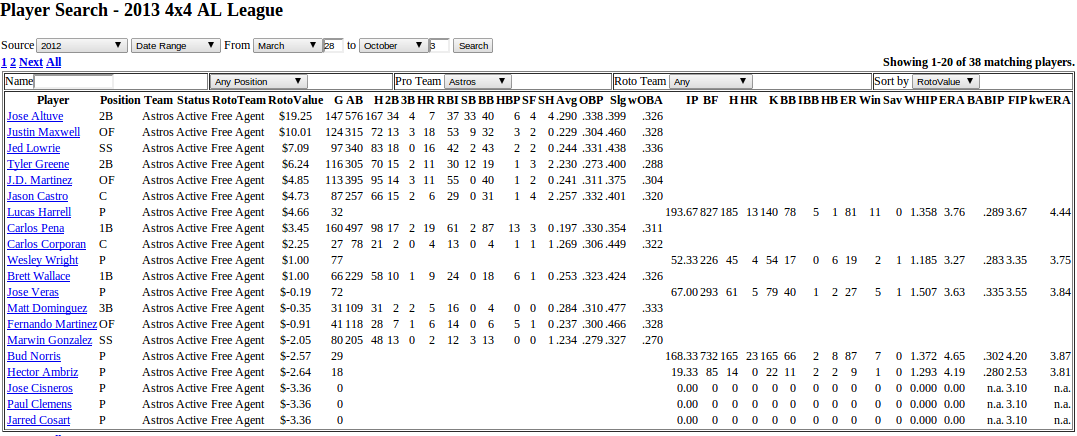 Click on the picture to go to an interactive version of the page. At 55-107, the Astros had the worst record in MLB last year by a wide margin, and the roster didn't have too many valuable fantasy players. My demo leagues assume 10 fantasy teams starting 28 players each: 10 pitchers, 3 corner infielders, 3 middle infielders, 5 outfielders, 2 catchers, and a DH per team. Each team has a $260 salary cap to fill this roster and also 4 extra bench players.
Just 11 Astros players had positive value using 2012 stats, and the cumulative total was just $64.53. By comparison, Mike Trout's year was worth $43.60 all by himself, and Miguel Cabrera earned $41.16. With a full budget of $2600 spread over 15 teams, the average AL team should has $173.33 in RotoValue, yet the Astros total is just 37% of that.
Jose Altuve, the young second baseman, had 30% of the Astros' team value, at $19.25. Jason Maxwell, at $10.01 was next. Jed Lowrie and Tyler Greene were the only other players worth at least $5 in a 4×4 format.
Looking at 5×5 (same roster sizes and salary cap) improves things only slightly:

Again Altuve and Maxwell are the top two, worth basically the same amount. The team total rises to $67.99, and a few players now have more value. Carlos Pena ($7.52) actually scored more runs last year (72) than he drove in, so his value rises quite a bit in the 5×5 format. And since strikeouts are a cumulative category for pitchers, starting pitchers like Lucas Harrell ($7.42) have more value now, too.
Adding Astros to the AL player pool doesn't change things that much, as their cumulative prices are just about 2.5% of the league total. Prices of other players will decline somewhat compared to what they would have otherwise been to make room for this, but the impact on individuals will be tiny. 2.5% of even a $40 player is just $1, so for all practical purposes you can ignore the impact there. Where having the Astros may help is by giving an extra big league regular at each position. Sure, in many cases he's not very good, but these extra players mean the free agent pool for AL only leagues will be deeper than it was in years past. Likewise, the NL-only free agent pool becomes a little weaker, and there's a little more money to chase the remaining talent. As with the AL, the impact on individual players should be negligible.